Get It Now
Sell on Facebook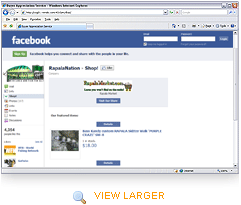 Use Vendio's Facebook Store application to get your items in front of 800 million+ Facebook users. Display the contents of your Vendio online store on your Facebook page, and allow customers to shop and checkout - without leaving Facebook.
Benefits
Easy Setup
No coding or technical skills are required.
Integrated with Facebook Pages
Customers can shop directly from Facebook on your business page.
Generate Trust and Security
The trusted Facebook interface and secure Vendio checkout will help customers feel safer when making purchases.
Automatic Viral Promotion
Social sharing and commenting helps increase your visibility in the Facebook community. When customers like your products or page, your store gets more traffic.
Shared Wishlists
Buyers can add your items to their wishlists, and share their lists with friends - increasing your exposure.
Synced Shopping Carts
Synced shopping carts increase sales by retaining items in shopping carts for purchases that have not yet been completed. Buyers can come back and make the purchase later if there is stock remaining.
Info and Instructions
Follow us for advice on social commerce and more.